Rust Prevention Packaging
END-OF-LIFE PROGRAMS, PARTS, BANKS, SERVICE PARTS AND MORE CRITICAL AND UNIQUE APPLICATIONS WHICH REQUIRE EQUALLY UNIQUE PROTECTION.
Unique and Custom Packaging Solutions to Meet All Client Requirements. As the world's only vertically integrated manufacturer with Accredited Laboratories and Chemists, Cortec® offers MPG the ability to meet all specific client requirements and specification to solve any corrosion related challenges anywhere in the world.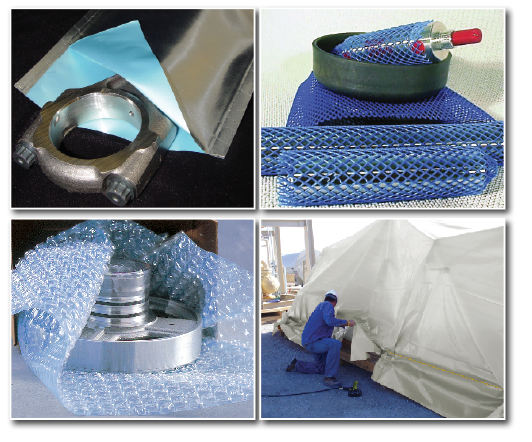 Cortec CorrLam
OEM approved heavy duty barrier-foil with VpCI laminated structure is ideal for long term (10+ years) banks, service parts and more.
Cortec VpCI® CorrNetting
CorrNetting™ combines physical cushioning protection for sensitive mechanical parts.
Cortec VpCI® Bubble Cushioning
Effective, efficient and ideal for protecting sensitive components.
Cortec EcoWeave®
Cortec EcoWeave is a woven polyethylene film which offers extra strength, durability and reusability.